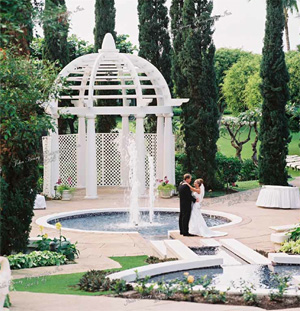 Outdoor weddings are all the rage these days and I would be the last one to try to discourage couples from having them. The outdoor wedding season in Durham is just about upon us again and in fact I have already performed an outdoor wedding on Apr 4th. Some of the most beautiful and memorable weddings I have officiated have been outdoors and some of my worst memories have been outdoor weddings.
There are many advantages to having your wedding ceremony outdoors. Not the least of the advantages is this. You won't find anything more breath taking than a beautiful bride all in white being escorted down a long path, across a beautiful white bridge and up the aisle between two sections of white covered chairs towards a superbly decorated Gazebo at the front. And if it is all topped off by an absolutely beautiful day and a stringed quartet playing, what could be better. Pictures taken on a scenic golf course in the Durham Region or with nature as your backdrop can't be beat. There are many reasons to have an outdoor wedding, these are just a few.
One of my bad memories of an outdoor wedding is getting to it, driving up a main road in Oshawa with about 6 inches of water running downstream towards me. That day the gale like winds and rain totally removed a reception tent and landed it a couple of fields over. We did find about a 15 minute window in which the chairs were dried off and the wedding took place to be following quickly by another gusher. Strangely enough though rain has not been the worst thing that could happen to an outdoor wedding in my opinion. If you have ever sat through the blazing hot sun for a half hour ceremony you will know what I mean. You can move inside when it rains but there is not much your guests can do but endure the heat.
Here are some tips that might help if you are planning an outdoor wedding.
Shade
Look for an outdoor venue that is well shaded. This will even protect you during a light rain shower.
Season
Consider getting married in May, September or October, the coolest months for outdoor weddings.
Options
Look for a Venue that has a nice indoor rain alternative. Don't settle for anything less than a space you would be happy to have your wedding in, rain or shine.
Look It Over
Make sure you see your rain alternative before you sign the deal.
Umbrellas
If the weather is hot, hand out small umbrellas to your guests and have lots of cold bottled water available on ice.
These are just a few of the things that might help to make your day memorable in a good way, not in a negative way. All the best to you as you plan your day.
Rev. Norman M. Martin
Wedding Officiant.
Blog courtesy of Norm Martin – Martin Wedding Officiants
For more marriage blogs visit: www.martinweddingofficiants.blogspot.com
Posted in
Outdoor Wedding
,
Wedding Officiant
,
Wedding Tips
Tags:
Durham wedding
,
Martin Wedding Officiants
,
Oshawa Wedding
,
Outdoor Wedding
,
Rev. Norman M. Martin
,
Wedding Ceremony
,
Wedding Officiant
,
Wedding Tips