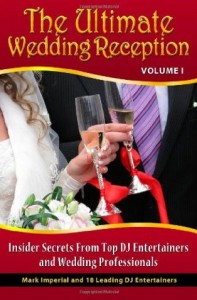 Tim MacMillan is the published Co-Author of "The Ultimate Wedding Reception: Insider Secrets from Top DJ Entertainers and Event Professionals!" and owner of MacMillan Entertainment Group. With locations in Peterborough, Mississauga and Durham Region, MacMillan Entertainment Group has over 30 professional DJs on staff specializing in Wedding Receptions.
Here is an excerpt of some of the useful reception wedding planning tips you will find in his book:
You've set the date, you've booked the Venue. Now you are faced with the challenging task of hiring a DJ company that can ultimately "make or break" the party portion of your reception. You want to have the best time of your life celebrating with your family and friends on your special day. But how do you choose a DJ you can trust to do a great job? There are many factors to consider when making this important choice. According to Modern Bride, approximately 5% of your overall budget will be spent on entertainment but over twice the number of guests will remember your entertainment choice over anything else! What is the most important factor to look for? Experience. Nothing else can make up for an experienced DJ. Not the best equipment, light show or flashy website with lots of pictures and videos. In fact, most DJ websites that have pictures or videos are staged and can be very misleading. They may not truly represent how well that DJ will perform at your event.
Let's start with the basics. Do you choose a single operator DJ or DJ Company? There are many great single operator DJs and DJ companies alike. Although not for everyone, choosing a company with multiple DJs may make sense for at least three reasons. First, they will most likely have a choice of DJ that suits your particular needs, including the demographic, interactive and musical requirements that you are looking for. He/She will not be a "jack of all trades" DJ that did a school dance the night before your Wedding and will do a 50th Anniversary party the next day. In my experience in managing Disc Jockeys over the last 20 years, I have seen very few that can effectively perform at a variety of events. Can they demonstrate that they are aware of the proper etiquette and procedures for your type of wedding? Will they dress appropriately? Can they make suggestions and offer insightful tips? These are important questions to answer especially if you are considering a "friend of a friend who DJs". I can assure you that being a professional DJ is not as easy as it looks! Secondly, an established and reputable company is more likely to be insured, licensed by the AVLA (more on that later) and invest in quality sound & lighting systems. They should have back up staff available to cover any emergencies and be easily reachable to answer any of your questions. If a DJ you are considering says they have backup available for your event, make sure to get a name and phone number of this DJ. Unfortunately, throwing around the term "back up" is common practice, but few services actually have it in place. Don't compromise the success of your wedding because they can't or won't make these types of arrangements! The third reason to consider hiring a DJ company is that you will receive a written confirmation or contract so you know exactly what to expect and what you are paying for.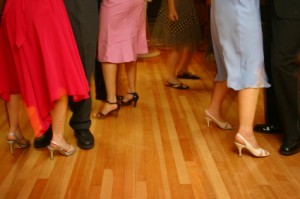 Established companies don't consider your Wedding a "gig" to earn a quick buck or something to do on the weekend. Your Wedding Reception is a once-in-a-lifetime experience and they are truly proud and honoured to play a crucial role in the success of your celebration. Longevity is rare in this industry, so if you find a company with a proven and verifiable track record in Weddings (including but not limited to client testimonials, referrals from your Venue or other Wedding Professional) then they deserve your serious consideration. Companies that have success in the Wedding Industry know what they are doing and believe in it as well. These companies understand how important their services are to each and every client and take this responsibility seriously. You will never see them trying to steal your spotlight. Companies that focus on weddings understand it is only about you and they enjoy making the party happen, not being the party!
Choosing a DJ that is AVLA licensed and part of a recognized Disc Jockey Association (Canadian Professional Disc Jockey Association or Canadian Disc Jockey Association) should also play an important role in your decision-making process. It shows that the company is serious about the professional services it provides. Specifically the CPDJA "is a not-for-profit trade association of professional disc jockeys across Canada who are concerned with maintaining a high standard of quality in performance and business ethics in order to ensure that you the customer, receive the best possible music service for your function". Confirm that the company has an AVLA license prior to booking! It is an actual card that the DJ must carry with them to each and every function.
Furthermore, if you are thinking of hiring a DJ that offers CD-Rs as Party Favours, burning discs for anything other than your personal use (or commercial use with a license) is illegal, even if the discs are conceived as gifts. Basically, it infringes the rights of those involved in making the recordings.
Not only is doing your homework crucial, it is very important to hire a DJ you can trust to be reliable. For this reason, I would advise you against choosing a DJ based on price alone. Certainly, you should have a budget, but note that price differences reflect quality of service and ultimately impact value. The old adage, "you get what you pay for" is true. However, although it is important to invest in quality services, your DJ should be willing to accommodate your budget and not rope you into paying for things you don't want or need. A pre-programmed list of the "best" songs stored on an iPod will never replace a DJ who is skilled at reading the crowd. You can never get your special night back, so I suggest investing in the quality entertainment that your night deserves.
In addition to quality, it is important that you make sure to confirm the details well in advance with all of your vendors, including your DJ. The more communication that occurs ahead of time, the better. Ultimately, if you've hired a quality DJ, you need to trust them. Providing a huge list of must play songs ties the DJ's hands and prevents them from doing what they do best; getting the crowd excited and up and moving. DJs certainly appreciate guidance, but if you really want to have a great party, allow them to read the crowd, play requests and make sure your guests are having a great time!
Remember, you set the tone of your event, so it is important that you don't feel stressed because of logistical details. If you are on the dance floor enjoying yourself, the guests will be as well. So get up there and have fun!
These are just some quick and easy tips to consider when selecting your DJ. At the end of the day, you want to make sure that you are completely confident with the DJ and/or Company you have hired. Consider them part of your dream team as they are responsible for turning your Wedding dream into a reality.
For more other helpful tools in planning your Peterborough Wedding Reception Click Here.
For more information on MacMillan Entertainment Group visit www.macmillangroup.com or call 877-331-4619.
Posted in
DJ & Music Services
,
Durham Region Wedding Event
,
Durham Region Weddings
Tags:
DJ Services
,
Durham DJs
,
Durham wedding
,
Durham Wedding Receptions