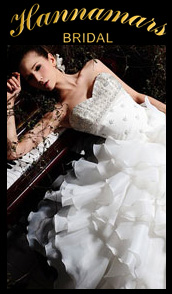 Thank you to all of the brides who participated in our last Hannamars Bridal contest. We are in the process of selecting a bride and will post that shortly.
If you have NOT picked out your wedding dress yet, you don't want to miss this opportunity. We have another generous contest giveaway from Hannamars Bridal. This contest is only running for one month (May)! Contest details are: 50% off of your wedding dress (up to $600 off).
This time, to increase your chance of winning we would like you to write on our facebook fan page or send us a tweet.
Click Here for all of the details! Good luck to all of our beautiful brides!
Posted in
Durham Region Contest
Tags:
hannamars bridal
,
wedding dress discount
,
wedding-gown